When it comes to your home, it is good to know the signs of a sick roof. When leaks and soft spots are not addressed they can lead to serious damage. A good place to start when thinking about a new roof is inspecting your current one.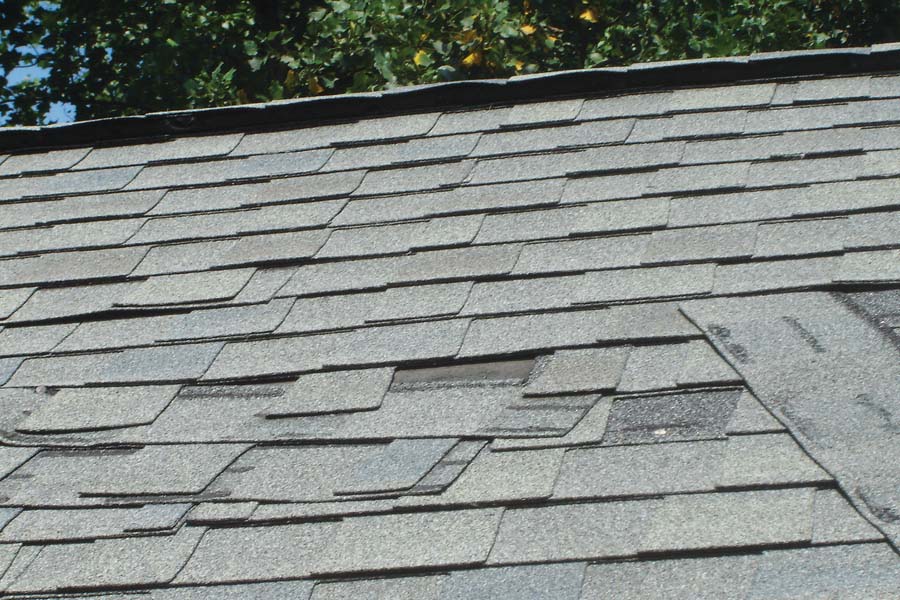 Signs Your Roof is Failing
Your roof is more than a layer of shingles. It is a system which is made up of many layers that make a seal. This seal works to guard your roof's deck from moisture. When this system starts to fail your roof and home's structure can start to rot.
The first thing you should think of is the age of your roof. The average new roof will tend to last 18 to 20 years. Age combined with two or more of the signs below may mean that it's time. We suggest you then have a professional come and assess the state of your roof. Pro offers free roofing inspections, contact us today to schedule yours.
Continue Reading Below
4 Ways To Schedule
Your Estimate
Or fill out the form below!
Fill out the form below
to start texting us
Missing Shingles: One sure sign your roof is in bad shape is missing shingles. If your roof is older and has been worn by the elements, strong winds can get under the shingles and blow them away. Once this has happened your home will be left unprotected.
Missing Granules: The granules on top of the shingles protect them from the harsh rays of the sun. You shingles will be less durable once these granules fall off. Look for dark spots on your roof and a large number of granules in your gutters.
Curling Shingles: This will occur when the asphalt in your shingles starts to shrink. The years of going from wet to frozen to extremely dry and back again take their toll. These extremes will make the edges of the shingles will curl up. Large sections of this are a sign you need a new roof.
Moss and Algae: When an older roof goes through long periods where it is moist it can start to grow algae and moss. If left untreated these growths will slowly break down your roof's defenses. Thankfully newer roofs, like our Pro Grade system, have an algae resistance built into the shingles.
Weak Deck: If your roof's deck shows signs that it has started to sag into the attic or feels spongy when walking on it, check your attic. These are definite indicators that you have a leak. Look for moisture and sunlight coming in through the ceiling.
Why Do Old Roofs Fail
Poor Installation: For many roofs, the most damage will take place during install. When a homeowner looks for the lowest cost they will end up with young and inexperienced installers. This can lead to many issues with their new roof not long after the job is done.
Ice Damage: Ice and snow do the most damage when they start to melt. This will let water collect under the shingles and rest on the deck. As it gets colder again that water will freeze again. This can cause the shingles to lift. The lifting can create leaks and other issues down the line. Older homes with little or no ice and water shield are most at risk of this kind of damage.
Wind Damage: Strong winds can wear down asphalt shingles, nails, and other materials. As they beat at your roof from various directions, it can slowly wear away the finish on your roof leading to bigger issues.
Water Damage: If the installer of your roof did not seal up your roof during install then water can work its way into the deck and the rest of your home.
Get your new roof from Pro!
Pro is committed to giving our clients the best roofs in the state. We are proud to serve homeowners all over Southeast Michigan. From St Claire Shores to Ann Arbor and even as far as Flint we will build a new roof you will love. We do not charge more based on distance so you don't have to worry about paying more just because of where you live. We offer free roof estimates and roof inspections. If you would like to learn more about our roofing services call us today at 888-776-1998.